Hi folks! My name is Dave Custer. I'm a 21-year-old, self-employed, artist blacksmith and fabricator, residing in South Central Kentucky.
Back in June (2013,) I purchased a Luger Leeward sailboat.
Length overall is 16 feet
Beam is 6 feet
The boat came with mast, standing rigging, rudder, centerboard, trailer, motor, main, and jib sail.
Purchase price including the title transfer was $320.
The hull of the boat is structurally sound. There were only two major structural damages. One was professionally repaired and is completely invisible from the exterior of the boat. No worries there.
The second area is where the forestay attaches to the bow. This had been either under built or over strained, and the fiberglass laminate ad been cracked in two places through the in tire thickness of the laminate. Someone poured a large amount of fiberglass resin here, but that did nothing to fix the problem.
The entire interior of the craft needs rebuilding. The entire hull had to be stripped bare of all old fiberglass, wood, seating, and hardware. The centerboard housing even had to be completely removed.
The purpose of this blog is to provide a detailed pictorial story of this rebuild. I have made tons of progress already. The hull has been gutted and all stringers replaced. The centerboard housing is nearly ready to be installed again. The boat has been inverted and the exterior painted. However I will start my pictorial posts from the beginning so that the reader can get the entire (pardon the pun,) picture.
For now a picture of the boat as it sat when I purchased it. This is where it all begins.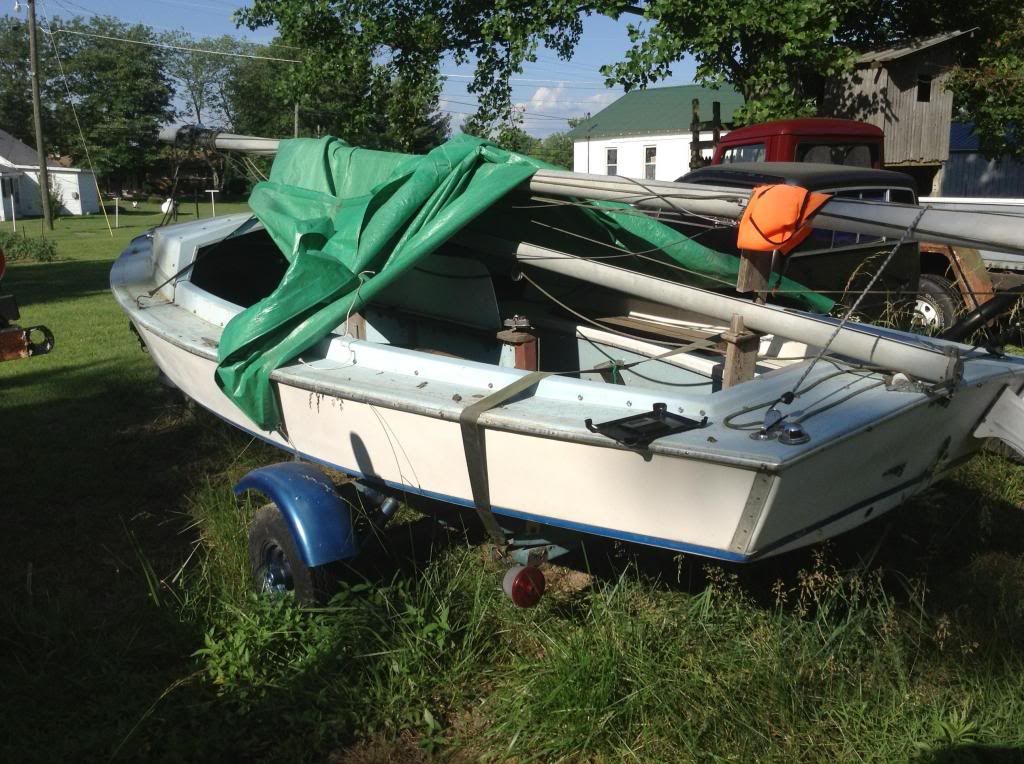 Check back soon for the next post!